Archive for August, 2017
This Month's Special
webadmin
August 10th, 2017
This Veteran's Day Kleen Mist is offering a FREE CARWASH to all veterans! This is our way of saying thank you for your service.
---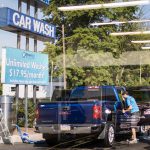 Complete Kleen From The Inside Out
webadmin
August 9th, 2017
Kleen Mist offers a fast, thorough interior cleaning with your car wash. We will clean your windows, vacuum your carpets and seats, and dust your dash and console and clean your door jambs.
---